September 7th, 2017 by admin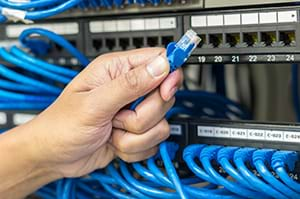 It's very easy to forget how much infrastructure is required to support our increasing dependence on technology. Modern businesses require fast, reliable internet connections, secure IT systems, larger storage solutions, and applications to support most every aspect of their work. Behind the scenes, IT providers have to build a solid foundation of cabling and equipment to meet those growing demands.
TouchPoint works closely together with Adtran to offer the best in wireless and network infrastructure for our customers. Whether you need better voice, data, video, or internet connections, host everything on the cloud, or just need your phones to work dependably, our team of experts are here to help. We're experienced in assessing your IT needs and designing the best infrastructure to effectively support your system today and in the coming years.
Our goal is to help you save, by installing long-lasting solutions that can match your company's growth. By partnering with a leading global provider, we ensure that our customers benefit from over 1,700 solutions including the latest equipment and software. After all, the best way to create a dependable, efficient network is to make a good investment in your IT infrastructure. Learn More »
Posted in: Products & Services