October 9th, 2012 by admin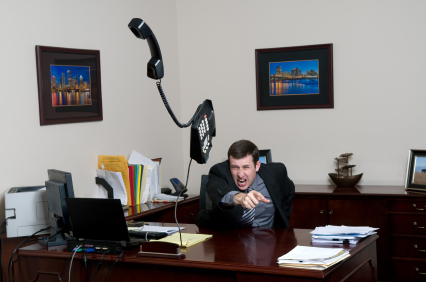 Have you felt like throwing your phone across the desk?!  We recently attended a trade show and met a surprising number of IT managers and business owners who probably at one time did want to chuck their phone! They had recently adopted VoIP in their business but were not happy with the implementation.  We were even more surprised that many continue to have ongoing issues.
The first issue associated with VoIP is its inherent complexity
As with any technological breakthrough, the average IT professional needs some time and experience to get a firm grasp on how to handle technology that is new to them. VoIP requires network managers to learn new technical terminology, integrate voice into existing data networks and gain expertise in an entirely new skill set. Many business owners and savvy IT managers are consulting with unified communications providers in order to bypass these hurdles.
Another concern with VoIP is that it isn't as secure as traditional telephone systems
The nature of IP-based technology can expose businesses to eavesdropping or malicious hackers if proper steps are not taken.  In the past when voice ran through the phone company, only one entity was involved.  But with today's communications running through the Internet, voice packets must go through several servers before reaching their intended recipient. Some quick ways to avoid such headaches: utilize encryption or other security mechanisms that are designed specifically to counteract malicious acts. In fact, when the appropriate preparation is made, many businesses actually experience improved security by shifting their communications to VoIP.
Then comes the problem when someone dials 911 from a remote location
If not set up correctly, callers dialing 911 from a remote location will appear to be calling from the main site and that is exactly where emergency services will show up.  There are a few different ways to overcome this challenge.  Talk to your VoIP provider about options with your phone equipment, or talk to your telco provider about different services that may keep track of E911 alternate line ID services, otherwise as known as ALI.  These services keep a database of numbers and their locations and provide that information to 911.
And the number one challenge we heard with VoIP - an insufficient quality of service
Voice quality plagues many VoIP implementations because voice traffic must be transformed into data packets before it can be sent.  We already experience packet-loss in our day-to-day data interactions, but the difference is that packet-loss through email isn't very noticeable when compared with voice traffic. When sending an email, packet-loss results in a slightly delayed email. However, packet loss during a VoIP phone call results in choppy, low quality phone calls. This is an area of frustration for many companies that use VoIP but there are a couple of simple ways to avoid this.
How can I avoid the complications of VoIP?
Prior to Installation – deploy a network assessment.   A pre-deployment assessment should be done prior to the purchase of any hardware and the assessment must include a VoIP traffic simulation in order to gauge an accurate understanding of network readiness.
At installation and post-installation - utilize an IP provider that has the capability to give VoIP packets priority through their quality of service mechanism.  If IT personnel have the tools necessary to view, analyze, monitor and control this traffic this issue can be curtailed rather easily.
In order to ensure the proper implementation of a VoIP system, one must seek the expertise of a professional unified communications provider. While providers vary greatly in technical aptitude, there are a few subtle differentiators to consider before making a selection. Providers who deploy sophisticated remote bandwidth management tools take the necessary steps to ensure that that they are doing their due diligence, and that the VoIP phone system will function properly when installed.
As with anything new in business, you may face several challenges in overcoming the learning curve, but the benefits of VoIP far outweigh the potential risks. Business owners interested in increasing profitability, enhancing productivity and supplying themselves with a competitive advantage are finding that VoIP enables them to do just that.
Posted in: Solutions